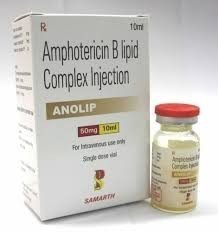 AMPHOTERICIN B LIPID COMPLEX
Brand Name & Strength
Ampholip 50 mg/10 ml
Reconstitution
Not required
Further Dilution
Dilute 1 vial (50 mg) with 40 ml of diluent (concentration: 1 mg/ml). In fluid restricted, pediatric and cardiovascular patient, 2 mg/ml may be used.
Diluent
D5
Administration & Infusion rate
IV infusion
Administer at a rate of 2.5 mg/kg/hr
Storage & Stability
RT
(<25 oC)
Fridge
(2 – 8 oC)
After Reconstitution
- -
After dilution
6 hr 48 hr
Remarks
Test dose: 1 mg infused intravenously over 15 min
For patients who experience infusion-related immediate reactions, premedicate with an NSAID ± Diphenhydramine or Hydrocortisone.
If the infusion time exceeds 2 hours, mix the contents by shaking the infusion bag every 2 hours.
Do not dilute with NS or mix with other drugs or electrolytes.
Do not use an in-line filter during administration.
IV line should be flushed with D5