ILOPROST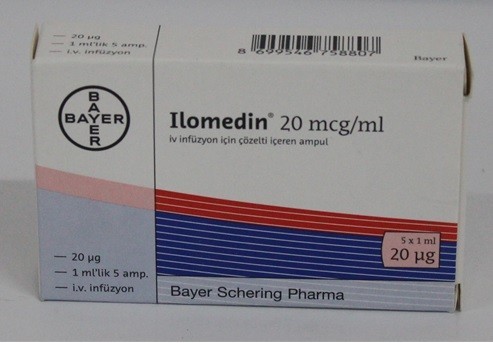 Brand Name & Strength
Ilomedin 0.5 ml (contains 67 mcg Iloprost Trometamol equivalent to 50 mcg Iloprost)
Reconstitution
Not required
Further Dilution
For infusion pump use
Dilute 50 mcg (0.5 ml) with 250 ml diluent to a final concentration of 0.2 mcg/ml For syringe driver use
Dilute 50 mcg (0.5 ml) with 25 ml diluent to a final concentration of 2 mcg/ml
Diluent
NS, D5
Administration & Infusion rate
IV infusion
Administer over 6 hr via a peripheral vein or a central venous catheter.
Treatment can be started at an infusion rate to deliver 0.5 ng/kg/min for 30 min. The dose can then be increased at intervals of about 30 min in steps of 0.5 ng/kg/min up to 2 ng/kg/min. (Refer to product leaflet for the table that consists of infusion rate corresponding to weight.)
Storage & Stability
RT
(<25 oC)
Fridge
(2 – 8 oC)
After Reconstitution
-
After dilution
-
Remarks
Ilomedin must be administered
After dilution
.
The infusion solution should be made up freshly each day to ensure sterility.