AMPHOTERICIN B SODIUM DEOXYCHOLATE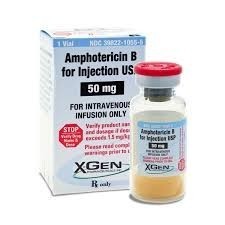 Brand Name & Strength
Amphotret 50 mg
Reconstitution
Reconstitute vial with 10 ml WFI
Further Dilution
Dilute reconstituted solution with diluent to a concentration 0.1 mg/ml (50 mg vial in 500 ml D5 )
Diluent
D5
Administration & Infusion rate
IV infusion
Administer over 2 – 6 hr ; 4 – 6 hr
Storage & Stability
RT
(<25 oC)
Fridge
(2 – 8 oC)
After Reconstitution
- 7 days
After dilution
- -
Remarks
Solution should be protected from light during administration whenever possible. However, short term exposure (< 24 hr) to light during IV infusion does not appreciably affect potency.
Test dose: 1 mg in 20 ml D5 administered over 20 – 30 min may be preferred. Patient's temperature, pulse, respiration & BP should be recorded every 30 min for 2-4 hr
Final concentration should not exceed 0.1 mg/ml for peripheral infusion or 0.25 mg/ml for central infusion.
An in-line filter (pore size no less than 1 micron) may be used.
Incompatible with NS flush existing IV line with D5 or use separate line.
Rapid infusion may cause hypotension, hypokalemia, arrhythmia and shock.
Monitor for signs & symptoms of infusion–related reactions (fever, chills, hypotension, GI symptoms, breathing difficulties & headache) [
For patients who experience infusion-related immediate reactions, premedication can be considered. Premedication 30-60 min prior to drug administration: NSAID and/or diphenhydramine OR Paracetamol with diphenhydramine OR hydrocortisone.